BATTLE TESTED
POST WORKOUT RECOVERY
Scientific Based Nutrition
Get true science based recovery Formulated for elite athletes
BATTLE TESTED: POST WORKOUT RECOVERY
Battle Tested Sports Recovery provides an evidence-based formula that will help you recover faster and build more muscle.

After studying the top athletes in the world, such as boxers, olympians, MMA Fighters, NFL players and more. We created the ultimate post-workout recovery drink.

PERFORM, LOOK & RECOVER AT YOUR BEST
Battle Tested: Post workout helps to increase endurance, overall performance, energy levels, full body recovery and decreases soreness & onset inflammation from training.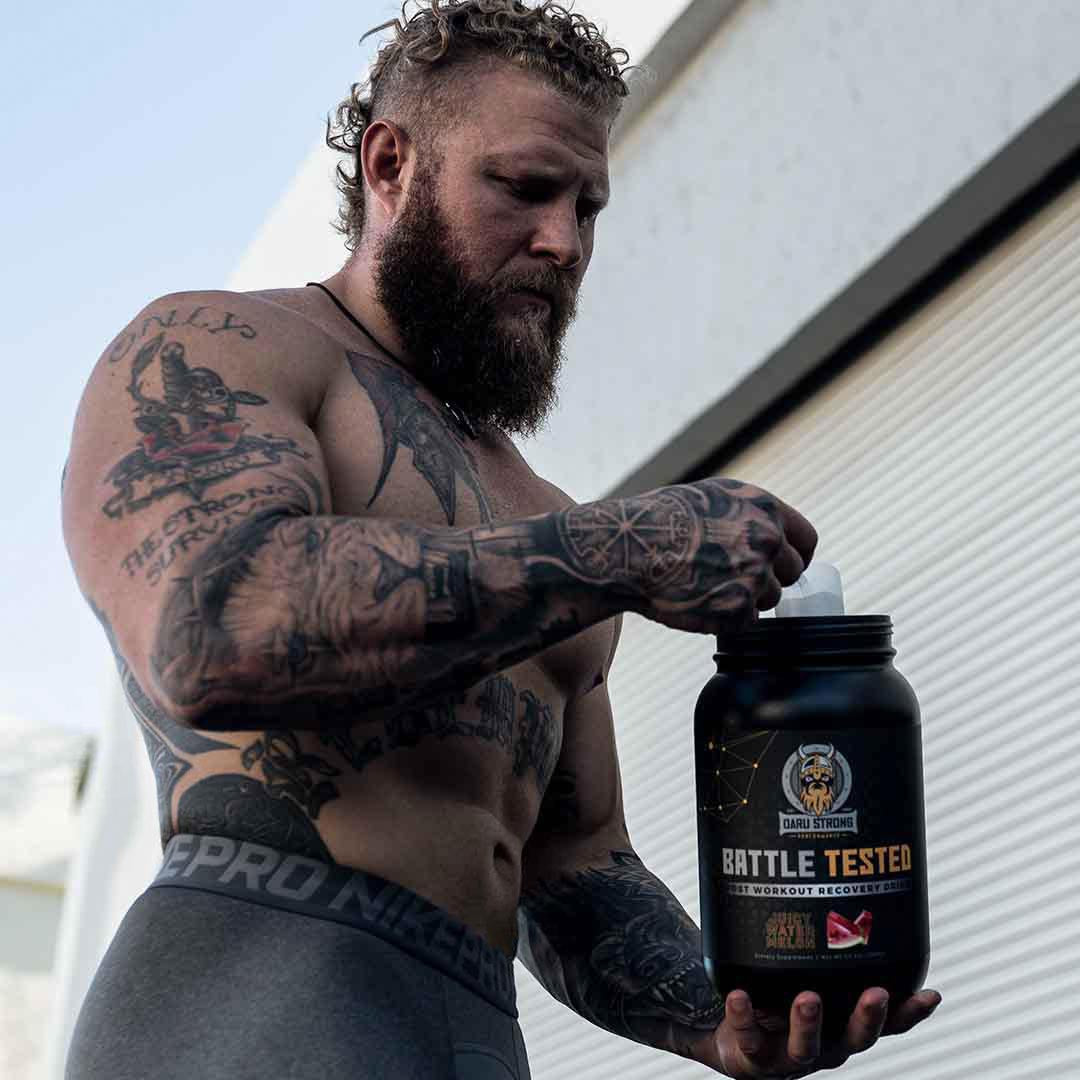 INGREDIENTS
Dextroseis a fast-digesting sugar, which helps replenish energy in a short time. This can also help with fatigue caused by mental exertion. Dextrose also incrases the nutrient uptake in cells, helping your body to recover.
Branched chain amino acids (leucine, valine, and isoleucine) help improve muscular recovery post training and help with building lean muscle mass.
A conditionally essential amino acid that aids gut health, recovery and improving the immune system.
Tart Cherry Extract is shown to create less pain, fewer inflammatory markers and better recovery.It has also been proven to reduce oxidative damage to muscle and other tissues
is a great source of potassium needed to replenish potassium lost during training and is an excellent source of antioxidants and phytonutrients.
Helps reduce oxidative stress and improves inflammation markers. 
Green tea extract can accelerate fat loss and improve joint, gut, skin, and heart health, and reduce muscle soreness after exercise.
Can help with reducing cortisol levels brought on by stress. Ashwagandha has been reported to improve VO2max, and evidence suggests that it improves upper and lower body strength, lower body power, and recovery.
Sodium, Potassium, Calcium, and Magnesium- electrolytes that are lost through sweat need to be replenished. These are important to proper muscular contractions and motor function. 
Potassium is a mineral that every cell in your body needs. It helps just about your whole body work right, including your brain, nerves, kidneys, heart, and other muscles.  You might be surprised by everything it does for you.
When you recover after exercise, magnesium keeps on working. It helps relax the muscles and prevent them from cramping or spasming. It also helps replenish red blood cells, which have been hard at work providing your body with oxygen during exertion.
Enhances athletic recovery by reducing exercise-induced inflammation and muscle soreness, along with aiding in digestion.
Calcium isessential to muscular growth and contraction, the maintenance of a regular heartbeat, and helps to prevent bone fractures.
Zinc works to boost the immune system, heal wounds, descrease acne, inflamation and keep workouts strong, helping to repair muscle.
ABOUT BATtlE TESTED
We pride our selves on the highest quality ingredients! Our products don't include any low-dosed, throwaway ingredients with little research to back up claims. Each ingredient serves a specific purpose, and each one is fully disclosed on the label - nothing is hidden behind a proprietary blend.